The Caring Angels Home Care LLC
Local Caregivers
Helping You at Home
We are a Non-Medical Homecare Agency dedicated to providing you with premium quality home care services so that your loved ones get the attention and care they deserve.
With over 20 years of experience in the medical industry, The Caring Angels Home Care is a family-owned and operated company in Houston, Texas. We pride ourselves on being the most reliable non-medical Home care Company serving communities in Houston and surrounding areas.
Our staff has the skills and training needed to provide clients with personalized, high-quality home care services to meet their unique needs. With our help, you'll have a stress-free and comfortable home care experience so that you enjoy everyday life from the comfort of your own home.
Personal Care
Companion Care
Home Care
Palliative Care
Alzheimer's Care
Respite Care
Transportation
Meal Delivery
This package includes:

Bathing

Bed Changing

Clothing Changing

Light Housekeeping

Companionship
This package includes:

All Services from Baby Steps Package​

Doctors Visits

Errands

Meal Prep
Medication Management /
Support Services
These support services include:

Help with DME Orders

Technology Guidance

Medication Pick Up/Delivery​

Fill Medication Box as Well as Daily Reminders

And More.

Respite Care
Need some time off from taking care of your loved one? Our respite care services offer short-term relief for primary caregivers.
Learn More
We can care for your loved one, whether just for one afternoon or several days or weeks at home, in a healthcare facility, or an adult day center.

Medication Reminders
We ensure that our patients regularly take their medication on time by implementing strategies that work for them.
Learn More
From structuring a bedtime routine to setting up timed reminders around the house, wearing a reminder device, and more, we help your loved ones stay on top of their medication no matter what.

Concierge/Medical Transport
Need help transporting your loved ones to and from medical appointments?
Learn More
We will make sure that you and all traveling members arrive safely and promptly at all medical destinations. Whether it's a one-time occurrence or a regular service, we've got you covered.
Medicare and Medicaid vs. Private Duty Care

It only covers short and limited-term care with needed approval and a waiting period. You'll have random caregivers and no choice in frequency or when the service is provided and under what circumstances.
You constantly need to reapply and qualify for services. You have to be under the care of a physician with the need for skilled nursing or home therapy (occupational, physical, or speech), which is limited.
It won't cover delivered meals or home meal preparations, 24-hour care, personal care (bathing, dressing, or toileting).
It won't cover home aide services such as personal shopping or errands, laundry or cleaning, or companion care.

You can obtain services whenever needed.
There are no waiting periods, need for approval/qualifications, or requirement for physician care.
We provide for everyday home care needs, such as meal preparation or delivery, 24-hour care or companion care, personal care (bathing, toileting, and dressing), laundry, and light housekeeping.
We provide shopping and errands services.
You have the choice to customize care to meet your needs (short/long term care).
There is no break in service.
You can utilize these services for as long as you need or want.
These services often come at affordable rates.
À la carte services with direct contact with a Home care Houston Caring Angel.
There are often breaks in services.
You often receive limited services.
You will have to pay out of pocket.
You will have to deal with a third-party company (i.e., Insurance providers) who will pick the services they will provide for you and for how long.
The Caring Angels Home Care LLC was established to provide quality home care and
senior care services
to the communities in and around Houston, Texas. There is nothing more important than giving our clients premium services from trained and experienced professionals.
As a family-owned and operated company, we value honesty, transparency, and outstanding customer service. With these values, we have built a reputation for being one of the most reliable and trustworthy home care service providers in Houston, Texas. To learn more about what we can do for you, reach out to us today.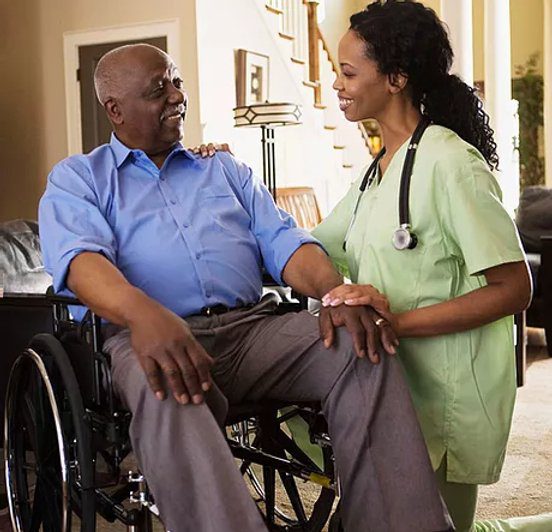 Work with Us!
Join the Caring Angels family and build your career with a company that cares for your well-being and growth.